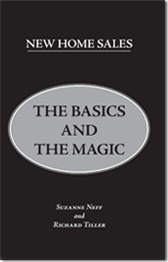 Published 2009
148 pages
Previous books have covered the basics of selling new homes that can make a salesperson successful. This is the first to also explore the special magic that can make a salesperson extraordinary. Rich Tiller and Suzanne Neff combine their 70 years of experience in the home building industry to explain what the magic of new home sales means, how to develop it, and how to combine it with the basics to reach the highest level of success.
Topics include:
How to connect with customers (and what connecting really means in new home sales).
How to project the five demeanors that customers want to see in a salesperson: confidence, enthusiasm, joy, purpose and relaxation.
How to develop the right attitudes and temperament for new home sales.
How to sell on all three levels of the decision making process: emotional, rational and intuitive.
How to engage customers in a way that keeps them on track and wanting to move forward.
How to develop a leadership role with your customers.
How to win sales from your competition.
How to create urgency.
How to turn objections into sales.
How to be a strong closer.
How to create your own unique selling style that will enable you to sell more powerfully and increase your conversion rate.

The first two chapters explore the magic of new home sales and the mental side of selling. The next four chapters bring the basics and the magic together so you can get the most out of each stage of the sale: greeting, demonstration, handling objections and closing.