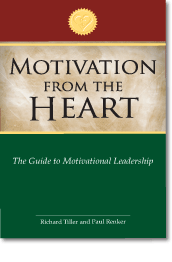 Published 2007
224 pages
People experience motivation at its deepest level when they believe in themselves and in their purpose. They demonstrate deep motivation through a desire to improve every day. Motivational leaders arouse this belief and desire in the hearts of those they lead. They are the leaders that people want to follow.
Motivation from the Heart by Richard Tiller and Paul Renker paints a vivid portrait of a motivational leader. It defines a motivating mindset and then describes how to transform this mindset into action—how to bring motivation to life through strong, compassionate leadership.
An outline of the book's contents…
DEFINING MOTIVATION
What is Motivation?
Motivational Leadership
CREATING AN ENVIRONMENT FOR MOTIVATION
Belief
Energy
Creating an Environment of Joy
Motivation with High Standards
Direction and Empowerment
TEACHING ATTITUDES FOR SUCCESS
Building Team Self-Confidence
Teaching Relaxed Focus
Teaching Mental Toughness
If you have a passion for motivation and a vision to instill that passion in the hearts of those you lead, this book was written for you.